Goliath Crane Manufacturer in Gujarat
#1 Leading Double Girder Goliath Crane Manufacturer from Ahmedabad
Torrane Industries Private Limited is a prominent name in the manufacturing industry of Gujarat. We are a leading manufacturer of industrial cranes, with a focus on producing high quality Goliath Cranes. Our company has been in business for several years and has gained a reputation for our exceptional products and services.
Goliath cranes are large industrial cranes that are typically used in heavy duty applications, such as in the construction, manufacturing and shipping industries. These cranes are designed to lift heavy loads and transport them over long distances. Goliath cranes are essential for any business that requires heavy lifting and Torrane Industries Private Limited is the go-to manufacturer for these cranes in Gujarat.
Torrane Industries Private Limited has a state-of-the-art manufacturing facility that is equipped with the latest machinery and equipment. Our company employs highly skilled engineers and technicians who have years of experience in the industry. Our manufacturing process is streamlined, with each step carefully monitored to ensure that the final product meets the highest quality standards.
One of the most significant advantages of working with Torrane Industries Private Limited is the level of customization that our company offers. Our company understands that each business has unique needs and, therefore, offers custom solutions that are tailored to meet the specific requirements of each customer. This means that businesses can get Goliath cranes that are designed to meet their exact specifications.
Torrane Industries Private Limited has a comprehensive customer support system that ensures that our clients receive the best service possible. Our company provides installation and maintenance services for our products, ensuring that they continue to function optimally over time. Torrane Industries Private Limited also offers training for our customers, which ensures that they can operate their Goliath cranes safely and efficiently.
Torrane Industries Private Limited is a top Goliath Crane Manufacturer in Gujarat, known for our commitment to quality, innovation and customer service. Whether you need a crane for construction, shipping, mining, or manufacturing, Torrane Industries Private Limited has the expertise and experience to provide a solution that meets your needs. If you're looking for a reliable, safe and efficient Goliath crane,Torrane Industries Private Limited should be at the top of your list.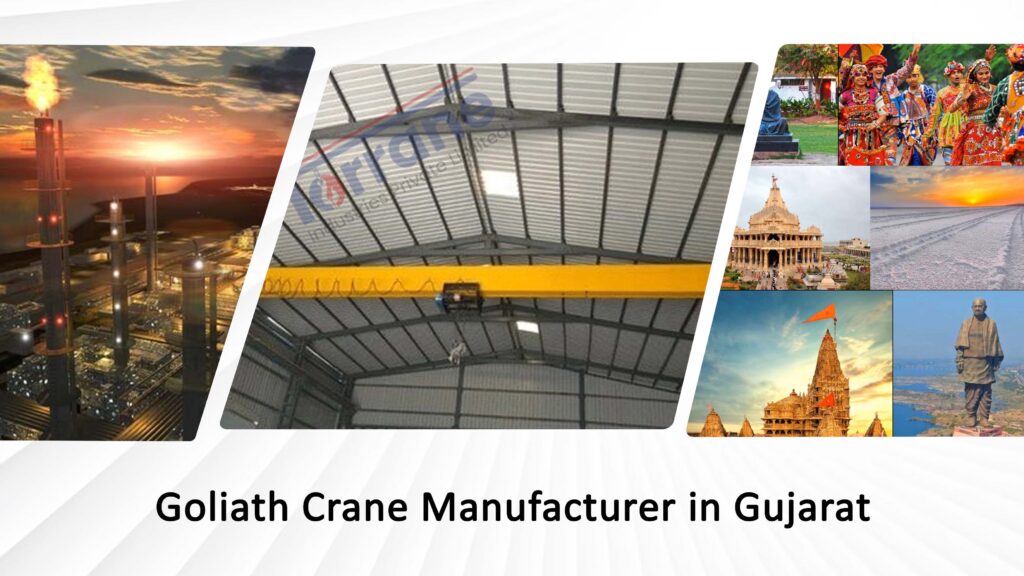 Tags:- Goliath Crane Manufacturer in Gujarat, Goliath Crane Manufacturer in Ahmedabad, Goliath Crane Manufacturer in Surat, Goliath Crane Manufacturer in Vadodara, Goliath Crane Manufacturer in Rajkot, Goliath Crane Manufacturer in Bhavnagar, Goliath Crane Manufacturer in Jamnagar, Goliath Crane Manufacturer in Gandhinagar, Goliath Crane Manufacturer in Anand, Goliath Crane Manufacturer in Morbi, Goliath Crane Manufacturer in Bharuch, Goliath Crane Manufacturer in Valsad, Goliath Crane Manufacturer in Vapi, Goliath Crane Manufacturer in Kalol, Goliath Crane Manufacturer in Amreli, Goliath Crane Manufacturer in Nadiad